Welcome to Oakchunas Chiropractic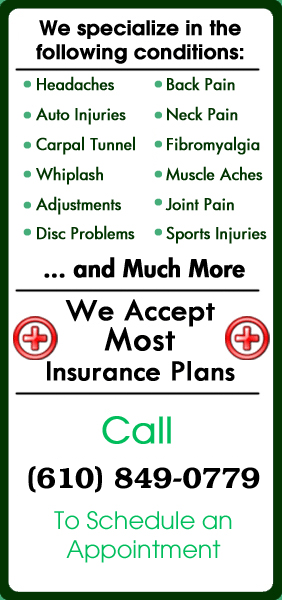 Chiropractic Care in Bethlehem, Pennsylvania
Oakchunas Chiropractic Clinic, L.L.C. is dedicated to helping as many people as possible with spinal health care related issues in the Bethlehem, PA and Greater Lehigh Valley community. Our goal is always that you attain maximum improvement with a result-oriented approach in the most expeditious amount of time. As your 
chiropractor in Bethlehem, PA
:


Our Job #1: To get you back to the normal life you expect and desire for you, your family, and your friends.

As a licensed Pennsylvania chiropractor,
Dr. Leo A. Oakchunas, DC
is committed to providing you with:
Expert Evaluation and Assessment.

Personalized Care specific to each individual patient's needs.

Integrity, Accuracy, and Precision for spinal care/treatment of the highest degree.

Ethical and moral based practice model.Clean, hygenic, renovated office atmosphere.

Extremity evaluation and treatment (i.e. shoulders, elbows, wrists, fingers, hips, knees, ankles, and toes).

Affordable cost-benefit ratio.

Non-Surgical, Drug-Free condition resolution.
Same Day or Next Day Appointments Available
***Complimentary Ice Pack at 1st Visit***
We are always accepting new patients. Our friendly staff will welcome you to our office and help you with anything you need through each phase of your chiropractic care. We work with a variety of insurance companies, and offer very reasonable rates for patients who are paying out-of-pocket.

Call our office today to schedule your appointment. We look forward to seeing you and thank you for choosing us as your chiropractor in Bethlehem,Pennsylvania.

What Our Patients are Saying
★★★★★
"
Dr Oakchunas helped me a great deal with my left hip pain. He provided great expertise of helping me cope with this awful pain. Of course, I had to get a Total Left Hip Replacement in Nov 2018, & I am doing very well no chiropractor 's, no more anti-inflammatory meds to take, life is good. My thought's on negativity, I alway's thought Dr Leo he was doing the best he can do. Many relative's thought otherwise, I was criticizing his services. They should go through what I went through 2 year's plus. Thank you Dr Oakchunas for your support on my well being.
"
 -
Maryella Loyek
★★★★★
"
Chriopractor, best one around. It's amazing what they can do for you. Allergies, headache, backache, and so much more
"
-
ANGIE S
.
★★★★★
"
Very helpful and takes his time with his patients to make sure all your concerns are addressed. I couldn't be happier switching my chiro to Dr. Leo Oakchunas.
!
"
-
RateMDS